The Washington Capitals finally succeeded in a Game 7. They defeated the New York Islanders 2-1 to advance to the second round against the New York Rangers.
It was an amazing game mainly because the referees allowed the players to play hockey, calling one penalty with three minutes left in the game.
The Washington Capitals played the game exactly like Game 2. They again ruled in Corsi (once again, if you do not understand Corsi, please refer to this website), but it took them forever to score. Impatience ran wild among Capitals fans in the arena and on social media.
https://twitter.com/jimmiebjr/status/592847327955656705
We're waiting.
When would the Capitals put the puck passed Jaroslave Halak? It was almost as if he was protected by Saran Wrap.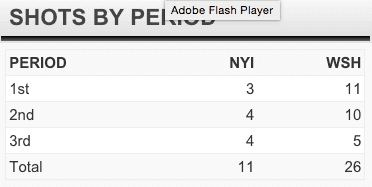 GIF Halak saves his own ass pic.twitter.com/seyn1euPZM

— steph (@myregularface) April 28, 2015
GIF: Brouwer reacts after Halak makes a save on him pic.twitter.com/gqbv0yeYGV

— steph (@myregularface) April 28, 2015
When they finally did score, it was not pretty. It was a soft goal that just happened to slide under Halak.
https://vine.co/v/eWPgZwuaeVi
The Capitals know how to celebrate. Look at captain Alex Ovechkin jump on the ice.
However, the Islanders struck back with their own soft goal three minutes into the third period. Frans Nielsen snuck the puck under goalie Braden Holtby.
https://vine.co/v/eWPTl7xVllI
Yet, this did nothing to hamper the Capitals. They remained determined. This paid off because halfway through the third period, Evgeny Kuznetsov scored the winning goal.
Over. The Islanders barely showed up. The Capitals outshot them by 15, almost a 43% difference. Before this game, the Capitals held a 3-9 record in Game 7s.
Next up are the Rangers, another hardcore rival.