DALLAS, Texas — Young conservative women and Turning Point USA (TPUSA) chapter leaders from all over the country gathered at the Hyatt Regency Dallas on Thursday to attend the organization's fifth annual Young Women's Leadership Summit (YWLS). The event featured scores of prominent conservative figures, including former U.S. ambassador to the United Nations Nikki Haley, Blexit founder Candace Owens, Education Secretary Betsy DeVos, and Sen. Marsha Blackburn (R-TN), among many others.
"The media makes it seem as if there are no young conservative women," said TPUSA founder Charlie Kirk, kicking off the event on Thursday evening, alongside YWLS chairwoman Allie Stuckey.
"This is a statement, this gathering," added Kirk, "The largest ever gathering for young conservative women — shows the entire media, that maybe they've been getting it wrong."
"Feminism — a word that used to mean something," said Blexit founder Candace Owens, who was also in Dallas on Thursday to speak at the event. "What the left is really good at doing is hijacking a term that once meant something and pretending that it's still the same thing when, in fact, it's not."
"Modern feminism has grown toxic," said Owens. "It's not about equality with men, it's about hating men."
"People that talk about 'toxic masculinity' tend to be toxic feminists," continued Owens. "If you want to see something toxic, tell a feminist, who says that they support every idea that a woman has, tell that feminist that you're not a feminist, and see what happens. See the way that you get treated."
Owens went on to talk about how feminism and the #MeToo movement has become "a war on men."
"I believe in due process," said Owens of the Kavanaugh hearings. "[Men] are our fathers, our sons, our brothers. We have to stand up for men."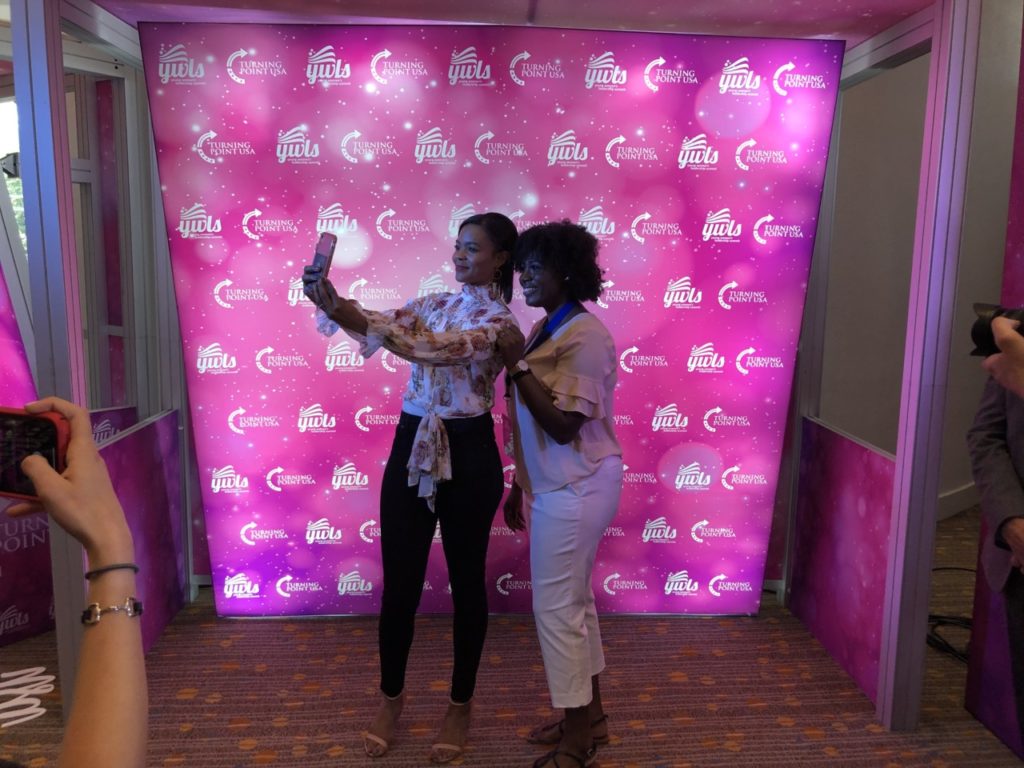 Candace Owens takes a photo with a fan while others wait in line for their chance to meet the Blexit founder. (Alana Mastrangelo/Breitbart News)
Conservative radio host and prominent NRA spokeswoman Dana Loesch also spoke on Thursday, and she noted the 75th Observance of D-Day and how strikingly different the men of yesterday were when compared to so many, specifically left-wing, "modern-day book burn[ers]" of today with their support for big tech censorship of conservative figures.
"I think that if those soldiers, who were on those amphibious transports going towards certain death, if they were here, our age, in modern time today, do you think that they would be bothered that someone made a mean video about them on YouTube?"
"Would they demand that Facebook take down someone's page because they were expressing a viewpoint with which they disagreed?" added Loesch. "These men, they fought real fascism — these people who are demanding the modern-day book-burning have no idea what fascism is."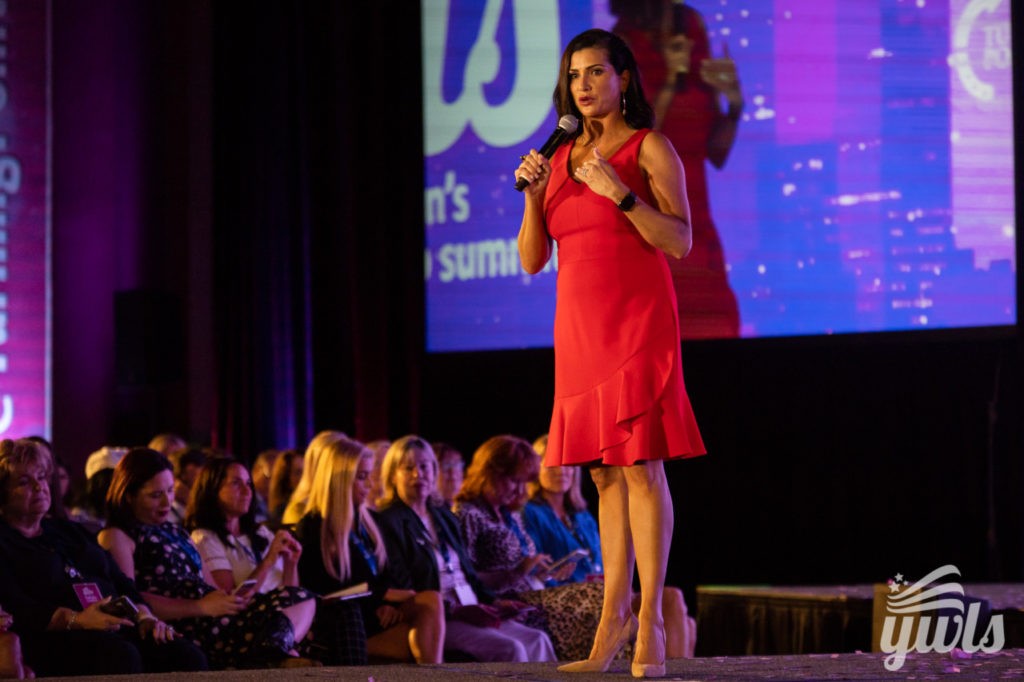 Dana Loesch speaks to YWLS attendees about modern-day "book burning" on social media platforms. (Jonathan Williams/Turning Point USA)
Charlie Kirk spoke with Education Secretary Betsy DeVos for a Q&A session later that evening. The two talked about the failure of the education system, the importance of free speech on campus, and the looming national student loan debt, among other topics.
"This is a really monumental issue," said DeVos of the student loan debt. "It's $1.5 trillion dollars right now and growing every year at the rate of almost $100 billion dollars."
"For students who enter higher education and start assuming debt, not knowing what they want to pursue, and taking out absolutely as much as they possibly can — we have felt a very keen need and responsibility to help provide students with more tools to be able to make decisions about and manage their assumption of debt," said DeVos.
DeVos went on to explain how the Trump administration is working to develop an app that will provide students with those tools as well as inform them of the cost-effectiveness of the college degree they are pursuing so that prospective students can make better decisions.
"We are adding, right now, data for every higher ed institution by program. You will be able to know what the program costs and what you are likely to be able to earn if you graduate from that program two, five, and ten years after graduation," said DeVos, which was met with roaring approval from the young attendees in the audience.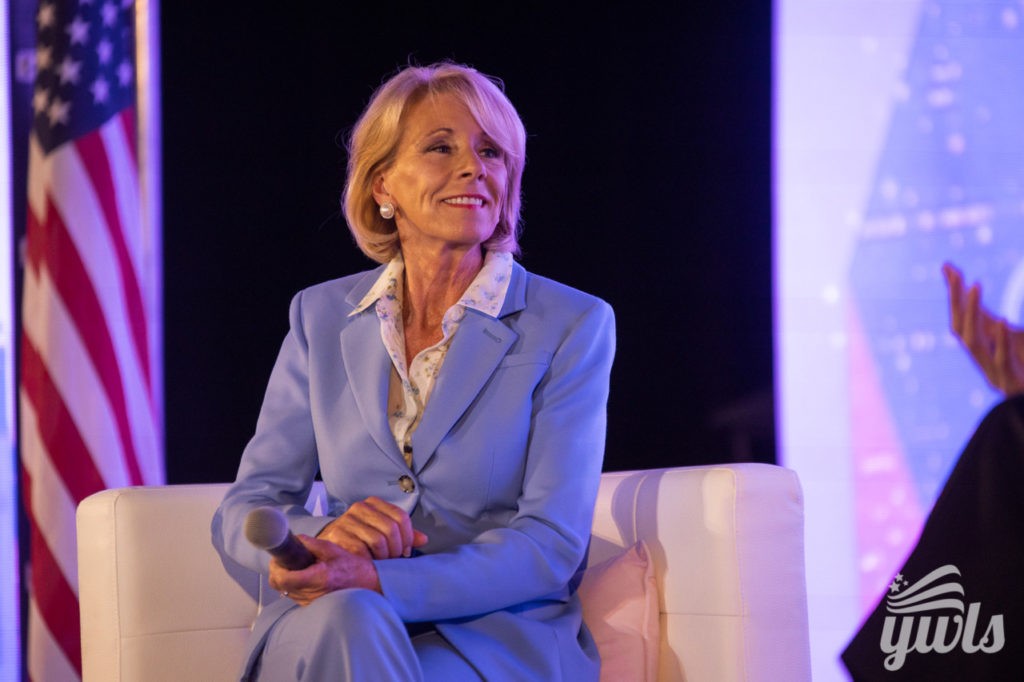 Education Secretary Betsy DeVos takes questions from TPUSA founder Charlie Kirk on Thursday evening. (Jonathan Williams/Turning Point USA)
"What the left wants you to do is to sit down, to be quiet, and get in the lane that they have created for you," said Sen. Blackburn at YWLS. "But playing by their rules means we ignore the big five: faith, family, freedom, hope, and opportunity."
Trump 2020 campaign senior adviser Kimberly Guilfoyle joined YWLS on Friday, and she told attendees that all of the 2020 Democrat presidential candidates are running "to fundamentally alter what it means to be an American."
"When I look around this room at all of the ladies here today — the Democrats should be shaking in their boots," noted Guilfoyle of the zealous young attendees.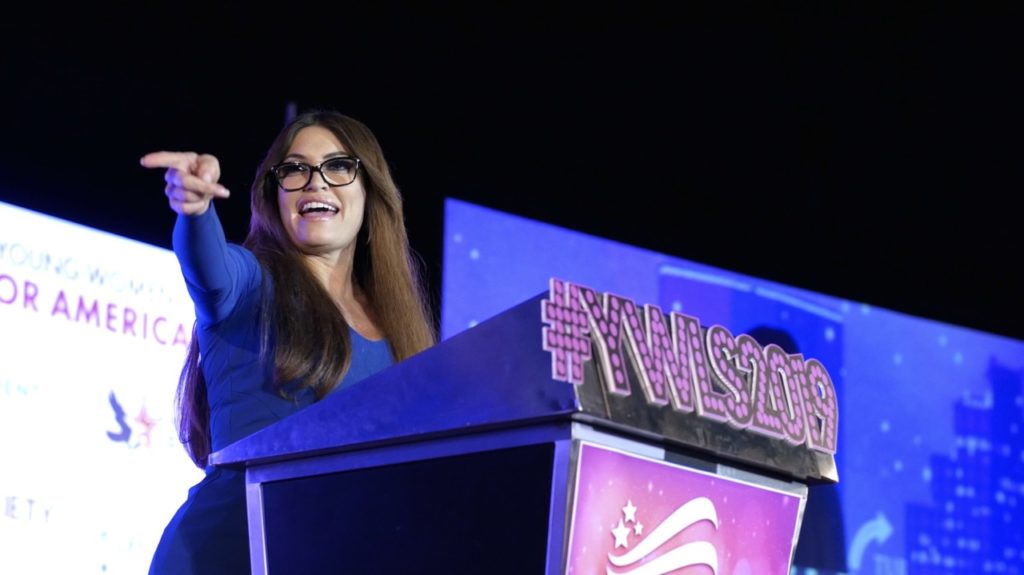 Kimberly Guilfoyle speaks to YWLS attendees about the future success of America under the Trump administration. (Matthew Perdie/Breitbart News)
"If you stand up for something, you're going to be set apart, but it doesn't mean that you have to believe the lie that you're the only one who thinks the way that you do," said vice president Mike Pence's daughter Charlotte Pence on Friday. "Leadership is lonely, [but] it doesn't mean you're alone."
Fox News journalist and investigative reporter Sara Carter was also present at YWLS and spoke about her experiences reporting in Afghanistan:
I spent a lot of time in villages — where women, in the majority of Afghanistan — were not allowed to make their own choices or decisions. The majority of the women that I knew, and it was unique that I was a [female] journalist in the war zone — because I could talk to the women, whereas male journalists were not allowed. They didn't have access to them. So, I was able to get a whole different perspective.

I remember meeting a young girl — we were at a clinic — she saw the female Afghan doctor, she saw me, and she looked around kind of stunned, and she said, "Women can work?" And I said, "Yes, where I'm from, almost all the women work." And she said to me, with tears in her eyes, "I will never, ever, be able to go to school, finish school, have a job, do what you do" — because she was beholden to her father's arranged marriage. She was 12 or 13 years old, and the man that she was to be married with was in his late 60s and was an elder of a village.
"The reason why I bring this up," said Carter, "is because we have such extraordinary freedoms in this country, and in the Western world, but particularly in the United States. Freedoms that are worth fighting for. Liberty."
WOW!

1,400+ YOUNG CONSERVATIVE WOMEN gather, largest ever gathering of it kind – @TPUSA changing the game!

They love America and love @realDonaldTrump turning America around!

The media refuses to cover this

Trump is going to WIN BIG TIME!

RT this so the media cannot ignore! pic.twitter.com/GQk07HKh9B

— Charlie Kirk (@charliekirk11) June 8, 2019
On Friday night, former United States ambassador to the United Nations Nikki Haley spoke to the YWLS attendees at a banquet where she said that Americans should not be calling their fellow citizens "evil" simply for having different political views.
"When I hear them call each other 'evil,' it bothers me because I've seen evil," said Haley. "I've been to the Democratic Republic of Congo where they use rape as a weapon of war. I've been to South Sudan where they've taken babies from women's arms and thrown them into fires — that's evil."
"What we're having in our country is a debate of ideas," added Haley. "That's it."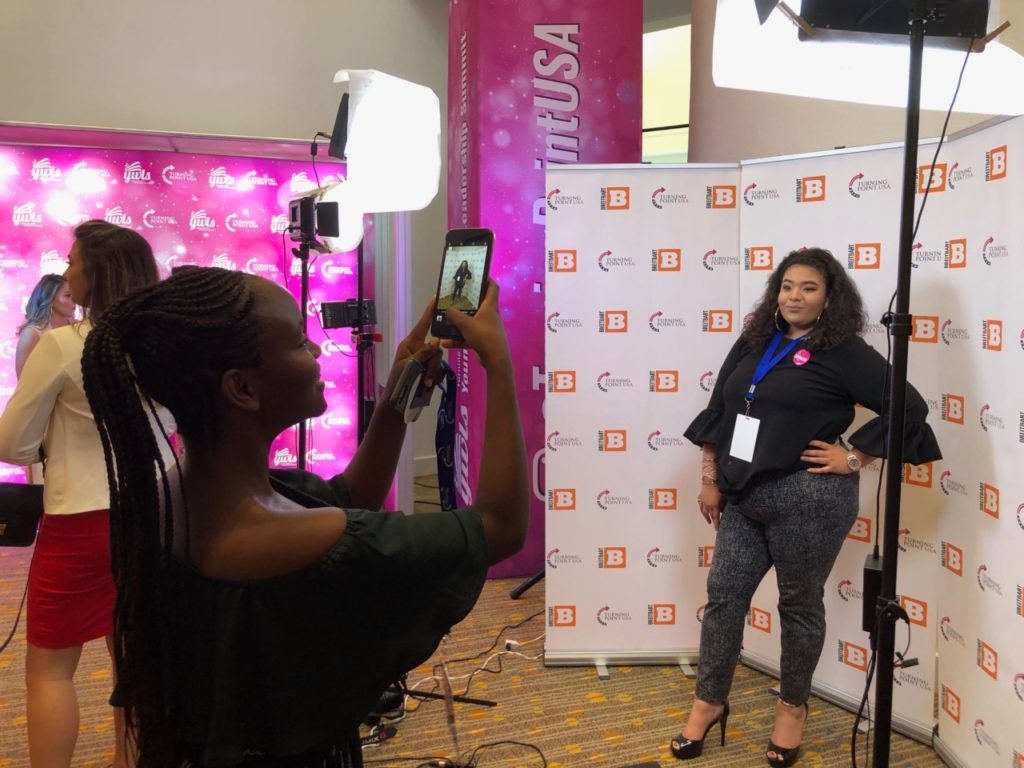 YWLS attendee poses for a photo in front of Breitbart News's interview backdrop. (Alana Mastrangelo/Breitbart News)
Representative Dan Crenshaw (R-TX) was the headline speaker on Saturday and told attendees, "We are Republicans because we believe in a republic. We believe in checks and balances. We believe in the notion of federalism. We believe that we are governed by the people, a free people."
"Democrats," Crenshaw continued, "they're more comfortable with this notion of tyranny of the majority — 51 percent of the population should not be able to tell the other 49 percent what to do. The Democrats are very comfortable with this notion — look at why they are so adamant of getting rid of the Electoral College."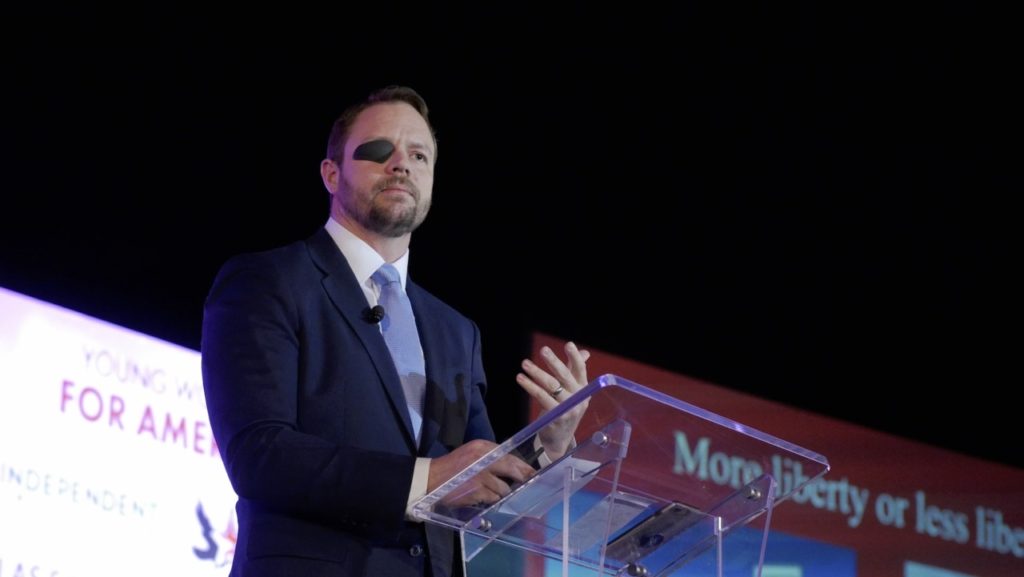 Rep. Dan Crenshaw talks about the difference between Republicans and Democrats on Saturday evening. (Matthew Perdie/Breitbart News)
The event concluded with public speaker and film director Jaco Booyens, whose sister was a victim of human trafficking and whose experience is captured in the film 8 Days.
Booyens gave an impassioned speech in which he stressed to the young women in the audience how important and valuable they are to society.
"This is the part of the speech where we're going to get into the uncomfortable stuff," said Booyens before making his presentation interactive. "And I ask you to participate because I believe today a transformation will happen in your life. I believe today you are going to rise up and you are going to become a queen."
You can watch Booyen's full speech here at time code: 9:15.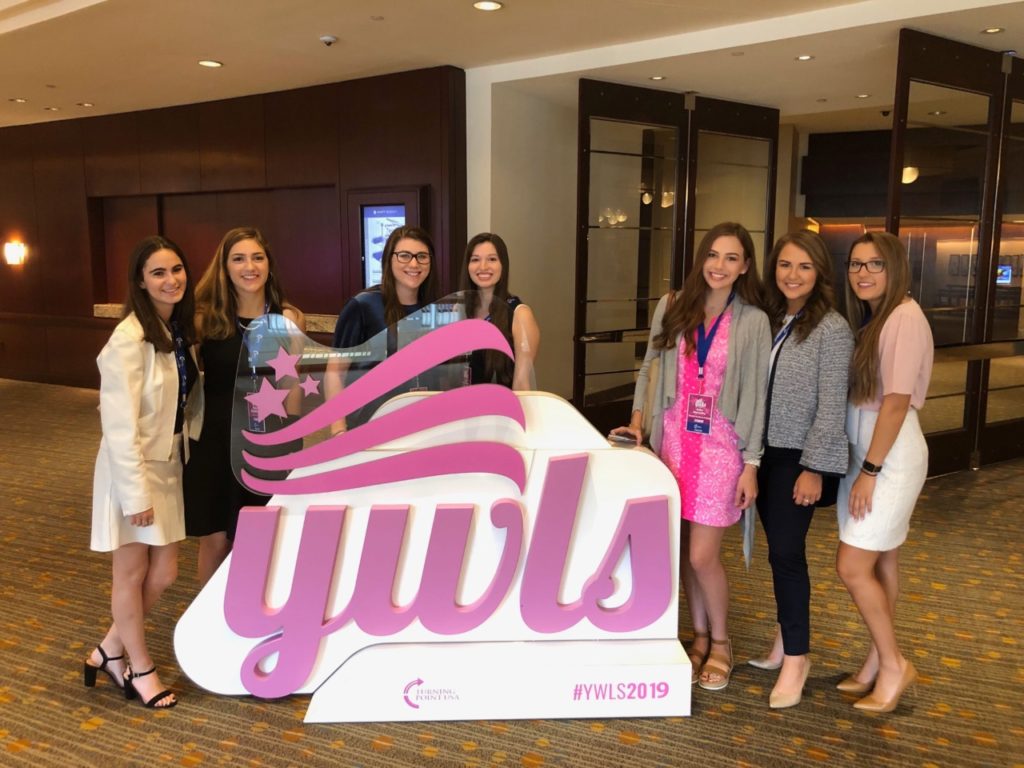 Event attendees pose for a photo in front of a YWLS sign. (Alana Mastrangelo/Breitbart News)
During the four-day summit, the young attendees shared their experiences on Twitter accompanied by the hashtag #YWLS2019, which included photos, favorite quotes from speakers, reminiscing about unforgettable moments, and even describing what it was like getting the chance to personally meet some of the prominent conservative figures.
"Thank you [Judge Jeanine Pirro] for inspiring me to chase my dreams and never let anyone hold me back," tweeted one YWLS attendee.
"So blessed to meet my hero, [Nikki Haley], this weekend!!" tweeted a second attendee. "It is an honor to hear from strong, graceful women like her. Thank you for the opportunity @TPUSA!"
"strong women deserve strong men" –@DLoesch LOVE. THAT. #ywls2019

— kylie flynn (@kylieashf) June 7, 2019
"Officially left #YWLS2019 and let me tell you… if you are a young lady and feel alone in your conservative beliefs, please don't," said another YWLS attendee. "This is your family. This is your sisterhood. And we are more present and strong-willed than ever."
"What [Jaco Booyens] gave me today was a lightness of heart," tweeted one TPUSA chapter leader. "No matter where men in my life have failed, I know that now I am qualified and worthy and enough today no matter what. Thank you for that. He is always a stand out speaker."
"You are free you are powerful you are unstoppable," responded Booyens in a tweet, "It was great to meet you. You are enough. God bless you."
You can follow Alana Mastrangelo on Twitter at @ARmastrangelo, on Parler at @alana, and on Instagram.