The fashion industry's trade association is joining with Mark Zuckerberg's lobbying group on Monday to argue that employers need more visas to hire more foreign professionals for high-fashion jobs in New York City that young American graduates supposedly just won't do.
But the leading designers at the Council of Fashion Designers of America are already using many foreign professionals instead of American fashion school graduates, according to federal data about the inflow of foreign contract-workers. For example, the 22 fashion leaders on the CFDA's board have asked for enough visas to import 406 H-1B contract workers since 2013, according to federal data at the MyVisaJobs.com website. 
Michael Kors has asked for 39 H-1B visas to import foreign contract workers since 2013, according to the website. Tory Burch asked for 30 contract workers, Ralph Lauren asked for 138 contract workers, J. Crew asked for 106 contract workers, and Calvin Klein sought 37 foreign workers, all to take desirable U.S-based jobs sought by young American professionals. 
The H-1B visas allow the fashion companies to get employees at the cheapest rate allowed by the federal government. For example, companies asked for visas to hire foreign workers for jobs such as a New York 2015 "fashion designer" at $80,000 per year, a 2013 "technical designer" in New York for $50,000 per year,  and a 2016 "associate designer" at $67,200 in nearby Jersey City. Many of the jobs are for related fashion industry careers, such as an "associate CAD designer" in New York to be paid $75,000 in 2016. Less famous fashion companies say they will pay foreigners below $50,000 in 2016 in high-cost New York, says the MyVisaJobs.com site. 
Nine of the fashion leaders on the 22-person CFDA board have apparently not asked for the foreign workers. These include the companies owned by Tommy Hilfiger, Vera Wang, Ashley Olson, Kara Ross, Reed Krakoff, Norma Kamali, and Mimi So.
The fashion group at the CFDA and Zuckerberg's FWD.us are holding a press conference Monday morning where they will argue that:
Immigration challenges are increasingly slowing the innovation that fuels the fashion industry, particularly as fashion houses compete for designers, scientists, researchers, and textile specialists to develop wearables and smart textiles. The fashion industry thrives on the talents of … designers, models, seamstresses, tailors, and garment workers.
Already, Zuckerberg's Facebook company and its many software subcontractors and business allies hire many foreign H-1bs workers in place of Americans. By law, companies are not required to interview Americans before they hire H-1B contract workers for jobs in the United States, but they are required to declare they cannot find Americans to do the various jobs, such as New York fashion designer. 
In 2013 and 2014, Zuckerberg's FWD.us strongly pushed the unpopular "Gang of Eight" legislation that would have doubled cheap-labor immigration into the United States for at least ten years. Currently, the federal government provides work permits to roughly 1 million legal immigrants and roughly 1 million contract workers each year, even as 4 million young Americans join the workforce. 
To bring in visa workers, designers including Michael Kors and Phillip Lim have hired the well-connected outsourcing law firm, Fragomen, Del Rey, Bernsen & Loewy LLP, as Breitbart Texas reported. Fragomen has previously helped outsource hundreds of American jobs to foreign workers for Carnival Corporation and Viacom.
The fashion industry will also use the Monday press conference to ask for more cheap blue-collar labor to fill out their garment workshops; "The fashion industry thrives on … seamstresses, tailors, and garment workers [and] roughly 20% of workers in clothing manufacturing are undocumented immigrants," said the April 6 joint press release from the CFDA and Zuckerberg's lobbying group, FWD.US.
The screen shots below show the number of H-1B visas requested by the fashion leaders since 2013. The data is provided by the MyVisaJobs.com, which collates federal H-1B data.
Roughly a third of those visa requests are successful because so many other companies are asking for a limited number new H-1B visas.
The federal government hands out 85,000 H-1B visas each year but allows each new contract-worker to get repeated visa extensions. Those extensions can keep H-1Bs in the United States for many years. 
Moreover, some of the H-1B workers eventually get a bonus payment from the federal government in the form of green cards which allow them to become citizens. This promise of a government-provided citizenship bonus creates a huge incentive for foreign professionals to work at salary levels far below the salary levels needed by Americans, many of whom have large college debts to pay. In turn, the inflow of foreign professionals also lowers the salaries paid to American graduates in many other industries.
This year, Goldman Sachs estimated the total population of H-1B workers holding jobs in the United States is almost 1 million.
Non-profits are allowed to get as many H-1B s as they wish. For example, since 2013 New York University has asked for roughly 400 new H-1B contract workers to take jobs as assistant professors, adjunct instructors, scientists and postdoctoral researchers, according to MyVisaJobs.com.
Nationwide, most of the H-1B contract workers have jobs in the computer industry, where they reduce wages and spike company profits. But a growing number of the H-1B workers are being hired by companies seeking to lower salaries now being paid to American doctors and physical therapists, business graduates, industrial designers, architects and fashion professionals.
For example, Condé Nast, which is the mass media parent company for fashion magazines like American Vogue, Vanity Fair and Glamour Magazine, has been hiring foreign workers instead of American since at least 2013. In 2015, Condé Nast tried to outsource lower-level jobs that newly-graduated fashion students usually fill, such as a fashion writing job for Glamour Magazine, which they sought to outsource for a $45,000 salary. Since 2014, Condé Nast has sought to outsource 30 non-technical fashion industry jobs to foreign workers rather than hiring talent in America.
President Donald Trump has promised to reform the H-1B program, but he's facing intense industry pushback from business groups and Wall Street because every dollar spent on salaries is one dollar less of profit. This month, however, Attorney General Jeff Sessions has warned companies that it is illegal to discriminate against Americans when they're asking for H-1B visas. 
In general, Democratic politicians, including New York Sen. Chuck Schumer, support the H-1B program because it gives them a bargaining chip in disputes over immigration policy. In 2013 and 2014, Democrats promised more H-1Bs to business in exchange for business' promise to pressure GOP legislators to support an amnesty for the 11 million illegal aliens living in the United States.
Here are the screenshots for the fashion leaders who have asked for H-1B visas to import contract workers for jobs sought by American professionals: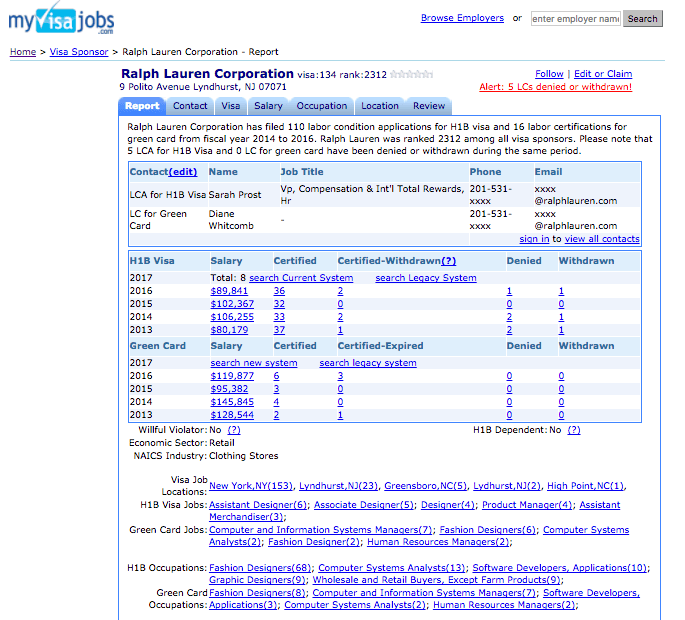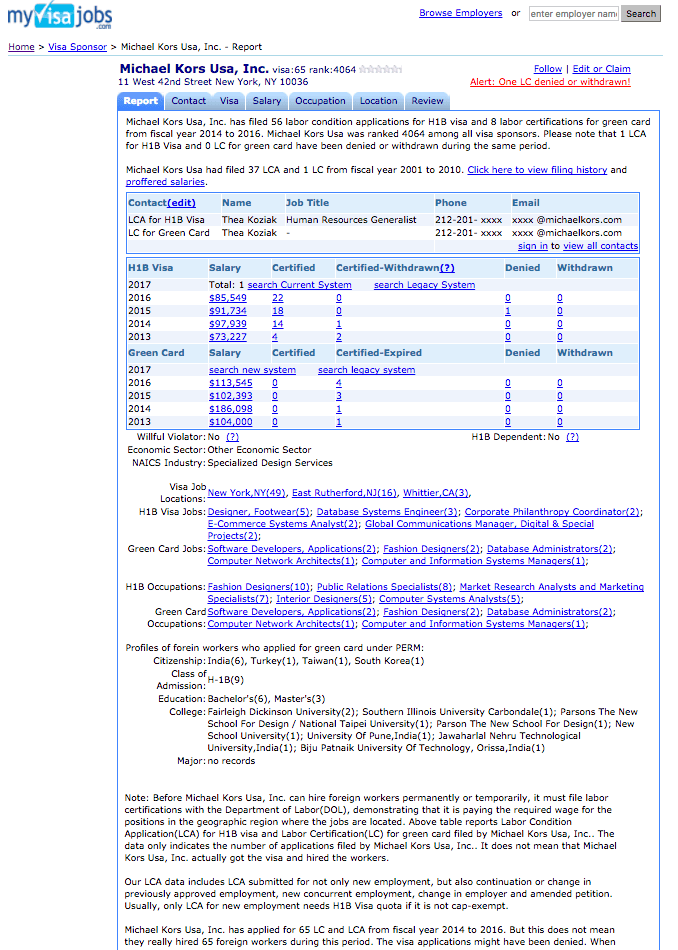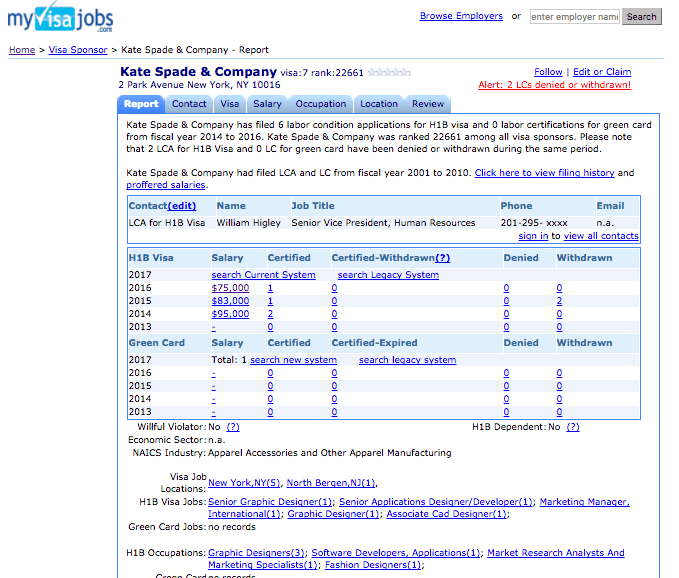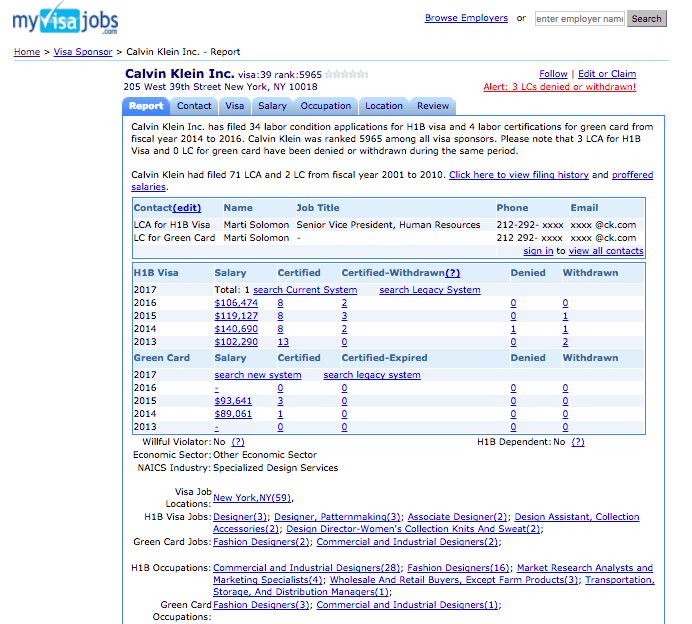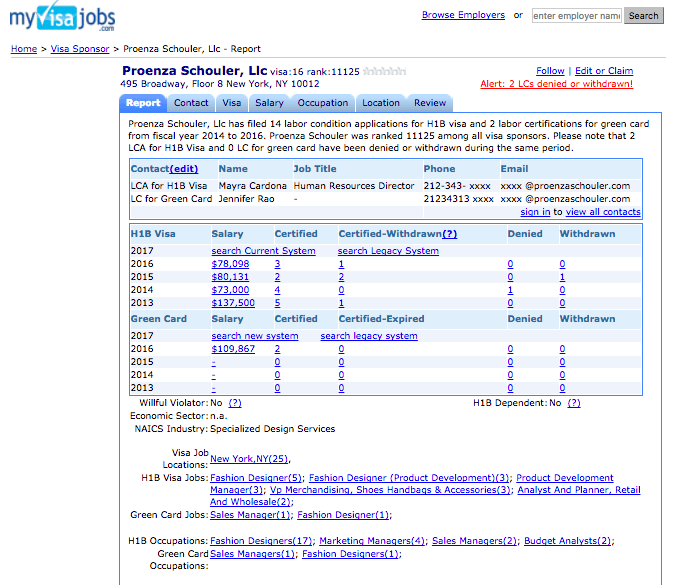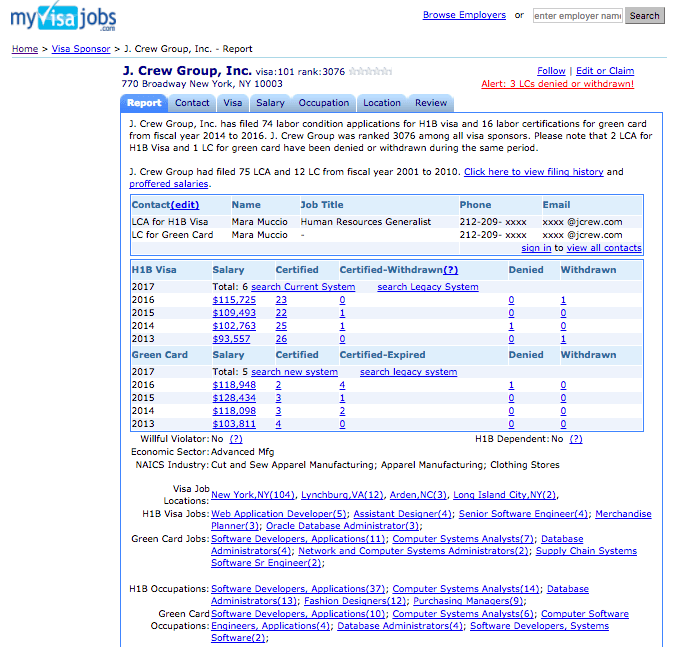 The article was written by John Binder and Neil Munro