Labour's Naz Shah marked the death of Winnie Mandela with an 'inspirational' quote from the South African activist endorsing the brutal 'necklacing' murders of the '80s and '90s.
The Member of Parliament for Bradford West responded to news that Nelson Mandela's widow had passed away by tweeting "RIP Winnie Mandela" and sharing an 'inspirational' poster of the South African featuring the quote: "Together, hand in hand, with our matches and our necklaces, we shall liberate this country."
'Necklacing' was a brutal form of murder popular with African National Congress (ANC) activists during Apartheid. It was meted out to black South Africans perceived to be "collaborating" with the white minority government, including councillors, policemen, labourers working on white-owned farms — and very often their female relatives, too.
It involved binding the victim's hands and sticking a tyre doused in petrol over their heads. This would then be set alight, resulting in a slow, agonising death.
Shah later deleted the tweet and claimed she did not realise what the quote was referencing — although it is not clear what other 'necklaces' would require matches — but replaced it with another tribute to Mrs Mandela shortly afterwards.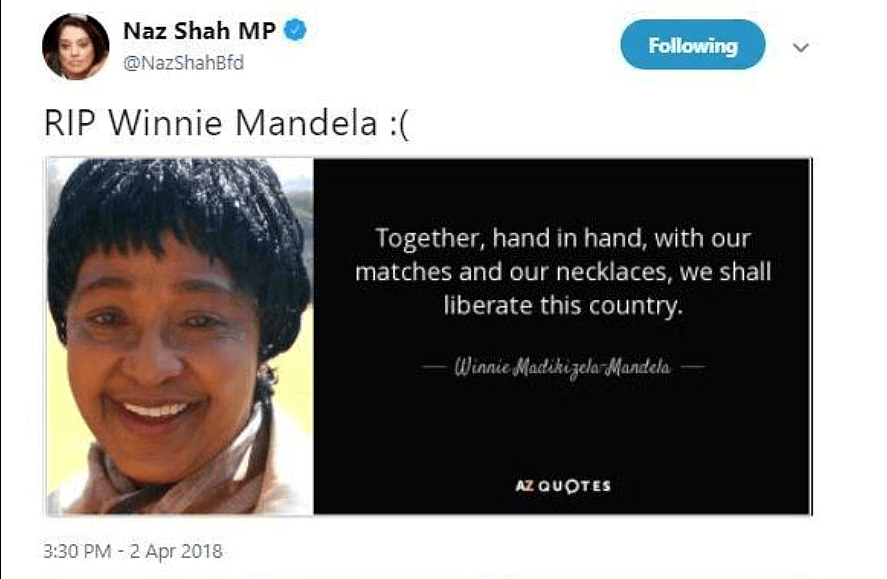 The Muslim MP is no stranger to controversy, having previously been suspended from the Labour Party for spreading anti-Semitic content online.
Shah shared messages on Facebook comparing Israel to Apartheid-era South Africa and Hitler's Germany, and suggested Israeli Jews should be "transported" to the United States en masse.
She admitted the language she used — including phrases such as "The Jews are rallying" — was anti-Semitic, but claimed she "didn't know at the time" and "didn't get anti-Semitism as racism".
She was swiftly reinstated — like many other Muslim politicians who have been embroiled in Labour anti-Semitism rows — but was soon back in the public eye for 'liking' and retweeting a message suggesting that the white victims of Muslim grooming gangs should "shut their mouths for the sake of diversity".
She did not receive any sort of official reprimand for this, however.
Shah has been an outspoken critic of U.S. President Donald Trump, calling for the democratically elected leader to be banned from attending events in the United Kingdom in 2017 and asking: "should he even be allowed in our country?"
Follow Jack Montgomery on Twitter:

 @JackBMontgomery
Follow Breitbart London on Facebook:

 Breitbart London