Refugee organizations wasted no time in capitalizing on the U.S. Supreme Court's ruling that stayed two lower courts' rulings on President Trump's temporary travel ban. The groups quickly used President Trump's victory in temporarily banning travel from six Muslim-majority countries to send out fundraising messages.
The New York-based International Rescue Committee (IRC) sent out an email asking for donations which began: "The Supreme Court has reinstated parts of President Trump's misguided travel ban and the impact on refugee families is immediate and devastating."
The website for IRC says:
The United States has a long tradition of offering refuge to those fleeing persecution and war. However, the Trump Administration, citing unfounded security concerns, has moved to suspend the refugee resettlement program for 120 days and slash refugee arrivals in 2017 by more than half.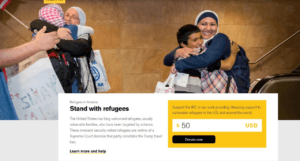 The IRC says people should get involved and donate because:
So far, only 17,000 of 4 million Syrian refugees have been re-settled in other countries.
More than 800,000 people arrived on the shores of Greece in 2015, an estimated 57% were fleeing the conflict in Syria.
An average of 50 Syrian families are forced to flee their homes, every hour of every day.
The Church World Service (CWS) another "Voluntary Agency" listed by the U.S. Office of Refugee Resettlement, issued a statement after the Supreme Court's opinion was released Monday saying:
 'Enabling any variation of President Trump's discriminatory refugee and Muslim ban to go into effect-even temporarily-is an imprudent, devastating blow to our fundamental values of justice and humanity. We will continue to use all measures at our disposal to fully rescind this un-American ban and urge our elected officials to exercise political courage in the face of this legal and humanitarian setback.' 'Together, our spirit will never yield to such exclusionary policies.'
After this statement, CWS includes a link to GreaterAs1.org which asks for a donation.
The organization also tweeted the following which included a link to their GreaterAs1.org donation page.
The #SCOTUS decision today does not reflect our nation's proud legacy of welcome, nor the strong support for refugees. #GreaterAs1 pic.twitter.com/Plyag3dO73

— CWS (@CWS_global) June 26, 2017
CWS has also issued a statement urging people to "Tell the White House & Congress that you OPPOSE Trump's Announcement to Grind Refugee Resettlement To a Halt & Bar Refugees from Certain Countries." It includes the phone numbers to call "President Trump" and "Your Senators and Representatives" and a script on what to say, including: "I am strongly opposed to President Trump's announcements to stop the resettlement of refugees from Syria, Iraq, Libya, Somalia, Sudan, and Yemen."
The Lutheran Immigration and Refugee Service (LIRS) did not directly ask for money, but it emailed out a script and asked people to "Tell Congress and the [Trump] Administration to conduct the review of the refugee admission process in good faith and as quickly as possible, and resettle at least 75,000 refugees during Fiscal Year 2018." The statement was entitled, "Advocate for 75,000 Refugees." The organization said the Supreme Court decision would "severely affect" their "ability to conduct the lifesaving work of providing safety and protection for the most vulnerable refugees, regardless of their nationality or religion." There was a "GIVE TODAY" link on the email.
Bob Price serves as associate editor and senior political news contributor for Breitbart Texas. He is a founding member of the Breitbart Texas team. Follow him on Twitter @BobPriceBBTX and Facebook.
Editor's Note: This article has been updated with additional information.